A few weeks ago my friend Jim over at Bargaineering had a post up about buying checks online, right about the time that I was, well, looking to buy checks online. Funny how that always works that way! Although I didn't go with his recommendation as I don't shop at Walmart for my own personal reasons, I did end up buying from a different company than I have bought from in the past. For the last X amount of years or so, as long as I can remember, I have been buying our checks online Checks In The Mail. I never had any problems with them at all, but this time I was looking for checks made from recycled paper and printed with non-toxic inks – and I managed to find them at a reasonable price!
The Check Gallery came to my rescue, as they only sell environmentally friendly checks. They had a deal for new customers where if you buy one box, the second box is only $.10, so my total came to a whopping $11.06 for two boxes, and shipping by UPS Ground was free. The checks are made from recycled paper and printed with soy-based inks, so the minute amount of checks that I do write didn't have too much of an effect on the environment at all prior to coming to my house.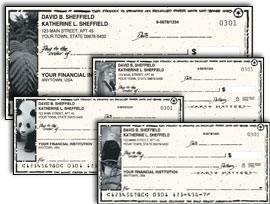 Now that I have the checks, I can say that I can recommend these guys if you need checks that are A. reasonably priced and B. environmentally friendly. $11 for 2 boxes of checks printed on recycled paper and delivered for free? Sold. At the rate I go, about 2-3 checks a month max, these should last me a very, very long time!